中
Hydroxy Vinyl Silicone Oil RJ-9401
Description
CAS No.: 67923-19-7
Structural formula: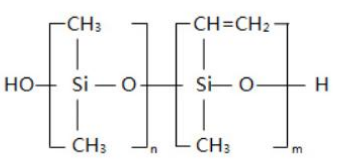 Product Name: Hydroxy Terminated Poly(Dimethyl/Methylvinyl) Silicone Fluid
Chemical Name: Silanol terminated Vinylmethylsiloxane-Dimethylsiloxane Copolymers
Technical Index
Appearance: Transparent colourless liquid.
Viscosity (25℃),mm 2 /s
Vinyl content, wt%
OH content, wt%
Density (25℃), g/cm3
25~40
1.25
6.0~8.0
0.99
2.5
5
10
30
Other viscosity can be provided according to customer's requirements.

Application
This product can be used in variety of applications, including:
It is used as constitution controller of silicone rubber and anti-sticking of make paper.
Packing
200kg Iron Drum or 1000kg IBC